Probiotics, known as "good" or "helpful" bacteria, are an excellent way to improve overall skin health. By strengthening the skin's barrier, toxins are flushed out and the damage caused by free radicals decreases. Probiotics applied topically also improve the skin's ability to retain moisture, keeping it hydrated and reducing the visibility of fine lines and wrinkles. Clean, moisturized, and healthy skin is less susceptible to redness, inflammation, or acne causing bacteria.
Tumeric + Coconut Facial Mask
Turmeric is revered for its many benefits, including fighting acne & reducing scar visibility. With moisturizing coconut, our gently exfoliating mask helps clear & relax your skin.
Learn more
Almond + Olive Facial Scrub
The antioxidants and vitamin E in Almonds help nourish & protect skin from UV rays. Olive leaf increases those benefits, while gently conditioning, for softer, smoother skin.
check it out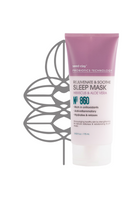 Hibiscus + Aloe Vera Sleep Mask
Let Hibiscus & Aloe rejuvenate your skin while you sleep. Our soothing overnight mask fights premature aging pollutants, for optimal moisture retention and calmer, de-stressed skin.
treat yourself